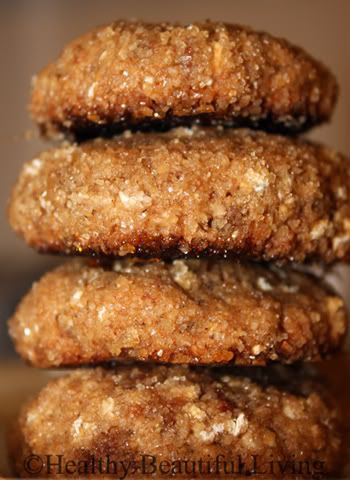 After my workout today, I felt like having a little something sweet, without actually having something decadent or
sweet
, you know? I remembered my first batch of
these
spiced oats and dates cookies and decided they would be a perfect post-workout snack, which I am currently enjoying with a steaming cup of green tea, lightly sweetened with agave syrup. Wow, I sound like a total health junkie! I guess I am, yet I am not: I'm very much into health (Did the name of the blog tip anybody off? No?), but because of the way I was brought up and where I live, many "health junkie" staples are unavailable or unattractive to me. Molasses are impossible to find in France, and I've yet to understand what nutritional yeast would be sold as here, if it were available. So, that being said, I go for
available
healthy food choices. And these cookies are just that: an easily available alternative to a "normal" sugar loaded cookie.
It is quite openly adapted from the recipe above by
Sunita Bhuyan
, and you could adapt it even more freely if you so desired. In the mean time, below you can find my version of this delicious cookie.
(Vegan) Spiced oats and dates cookies
15 dates, stoned and chopped (or the equivalent weight of date paste, I used half and half)
1/2 cup to 2/3 cup of milk, traditional or alternative* (see note)
3 tblsp sunflower oil (or other neutral oil of your choosing, canola or coconut would work great)
2 tblsp honey (molasses could work, but I haven't tried)
1/2 tsp vanilla essence
1/3 cup oats
1 cup whole wheat flour (or flour of your choosing)
2/3 tsp ground cinnamon
1/2 tsp ground ginger
1/8 tsp nutmeg
1/8 tsp cloves
1/2 tsp bicarbonate of soda
2 tsp flax seeds (ground if possible, whole is fine too)
Pinch of salt
Some brown sugar for rolling the balls in (optional)
* note: original recipe calls for less milk and more oil. I brought down the oil to 3 tablespoons instead of 4 as I found my first batch a tad too "shiny", but you need to adjust the liquid/dry ingredients ratio accordingly.
Also, you can obviously adjust the spices used and their quantities according to your personal taste.
First, you'll want to preheat your oven to 180°C (gas mark 6).
Then, purée the dates with the milk as finely as possible. If you're using whole flax seeds, add them in, too. Add the oil and honey (in that order, to avoid the honey sticking to the spoon), pulse a couple of times, add the vanilla essence, pulse again and set aside.
In a bowl, mix all the dry ingredients: flour, oats, bicarb, salt, spices and flax seeds (if using ground ones).
In a well in the center of the flour mixture, pour the date mixture and mix with a fork. When combined, mix lightly with your fingers. (Original recipe calls for an hour's chilling time for the dough at this point, but seeing as these are not ordinary cookies, in my opinion they don't need to be chilled to avoid spreading.)
Shape just under a heaped tablespoon of mixture per portion into a little ball, roll in the sugar if desired, then flatten lightly onto a baking sheet lined with parchment paper. Given that the mixture is pretty dry, cracks may form down the sides, that's fine. The recipe should make 15-18 cookies, depending on portion size.
Place the tray in the center** of the pre-heated oven and bake for 15 minutes until the cookies are slightly golden. They will be tender at first, but harden a little upon cooling while remaining ever so slightly chewy in the center.
**If you've rolled your cookies in the sugar and, like me, you have a gas oven that only heats from the bottom, you may want to place your cookies a little above the center to avoid burning the sugar on the bottom of the cookies.
Don't be put off by the seemingly long directions, it's just due to differences in recipes. These cookies come together really quickly and taste divine. They are not overly sweet, but pack some good nutrition with the dates and honey (plus, they're under 100 calories each, making 2 of them a perfect snack!).
What's
your
favorite healthy cookie recipe? I'd love to know!